Dry Waste: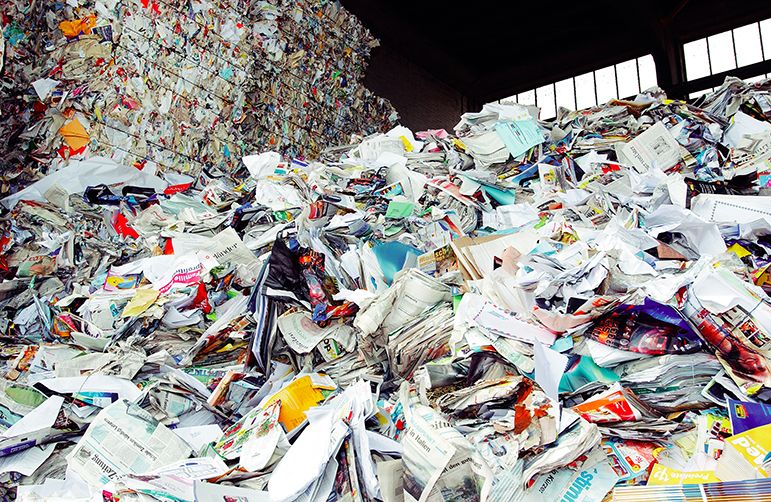 Dry Waste
"Waste other than bio-degradable waste and inert street sweepings and includes recyclable and non-recyclable waste, combustible waste, etc."
List of Non-Bio-degradable/Dry Waste
Newspapers, books and magazines
Plastic Items
Aluminum cans
Rexene & Rubber Items
Packaging
Fabrics/ Clothes
Styrofoam & Thermocol
BBMP today generates XYZ TPD of Dry waste. The dry waste from domestic generators (other than bulk waste generators) is collected at least twice or thrice a week by the auto tippers at the doorstep. And it is separated into recyclable and non-recyclable non –biodegradable waste. And these recyclable non-biodegradable waste is sent to dry waste collection centers, Material Recovery facilities for sorting and baling of Dry Waste and from there it has been sent to authorized recycling units or dry waste collected by auto tippers is directly sent to authorized recycling units to be turned into raw materials for producing new products.
Non-recyclable non-biodegradable waste having calorific value exceeding 1500kcal/kg shall be used as RDF combustible fraction of waste or supply as feedstock to solid waste-based power plants or cement kilns. Non-recyclable non-biodegradable waste having calorific value less than 1500 kcal/kg can be treated as per applicable guidelines
All the Bulk Waste generators should make their own arrangement to process their Non-biodegradable waste in accordance or they can engage authorized waste processors for collection, transportation and processing of their Non-Biodegradable waste
Frequency of Collection: 3-2 times/week
Collection Point
Doorsteps of households, shops, small commercial establishments and offices.
Entry gate or a designated location on the ground floor in a housing society, multi storied buildings or apartments, residential, commercial, institutional complexes.
Entry gate or specified places of slums and informal settlements.