Domestic Hazardous Waste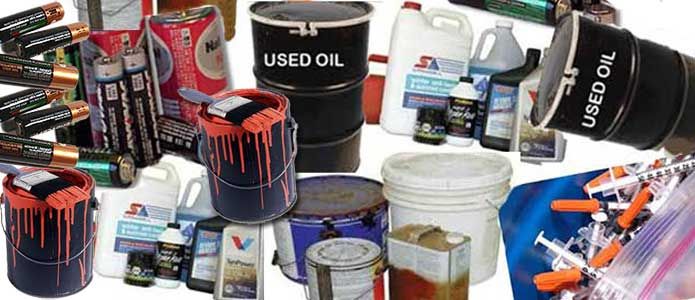 Domestic Hazardous Waste
"Waste includes some unwanted household products that can explode under certain circumstances, cause damage or likely to cause danger to health or environment, catch fire, react, or that are corrosive or toxic".
List of Domestic Hazardous Waste
Aerosol cans
Batteries, Car batteries, oil filters and car care products and consumables
Bleaches, household kitchen and drain cleaning agents
Oils, Chemicals and solvents and their empty containers
Cosmetic items, chemical-based Insecticides and their empty containers
Medicines including expired medicines, Pesticides and herbicides and their empty containers
Paints, oils, lubricants, glues, thinners, and their empty containers
Photographic chemicals
Soft foam packaging from new equipment
Thermometers and mercury-containing products
The domestic hazardous waste is collected daily in a separate bag and is transferred to the domestic hazardous waste processing centers. A portion in the existing DWCCs are earmarked & developed as a deposit Centre for Domestic Hazardous Waste in accordance with applicable regulations and adequate number of Domestic Waste Hazardous collection centers shall be set up in limits of ULB Jurisdiction for processing of the domestic Hazardous waste.
The Domestic Hazardous Waste that has been stored in the DHWCC shall be processed with the help of Treatment Storage Disposal Facility (TSDF) authorized by the KSPCB, incineration and/or any other suitable method determined by the KSPCB/CPCB. After processing of domestic hazardous waste, the left over inerts and rejects are transferred to sanitary landfill.
For the collection, transportation and disposal of domestic Hazardous waste generated by bulk Waste generators they should engage an authorized waste processor.
Frequency of Collection: Daily
Collection Point
Doorsteps of households, shops, small commercial establishments and offices.
Entry gate or a designated location on the ground floor in a housing society, multi storied buildings or apartments, residential, commercial, institutional complexes.
Entry gate or specified places of slums and informal settlements.